Development and support of a custom ERP system

We develop business resource management (ERP) systems that make work processes more productive and high quality
Apply for a free consultation
What is an enterprise resource management system?


Midis develops meaningful enterprise resource management systems that help businesses automate their processes. ERP simplifies and optimizes work with documents, making the process more transparent.
We provide our customers with a full range of IT services, from consulting to system delivery to the production environment. No matter the project's stage, we get to work quickly and add the highest value.
We will help you develop your business by automating the processes of accounting, finance, human resources, customers, production, transport management.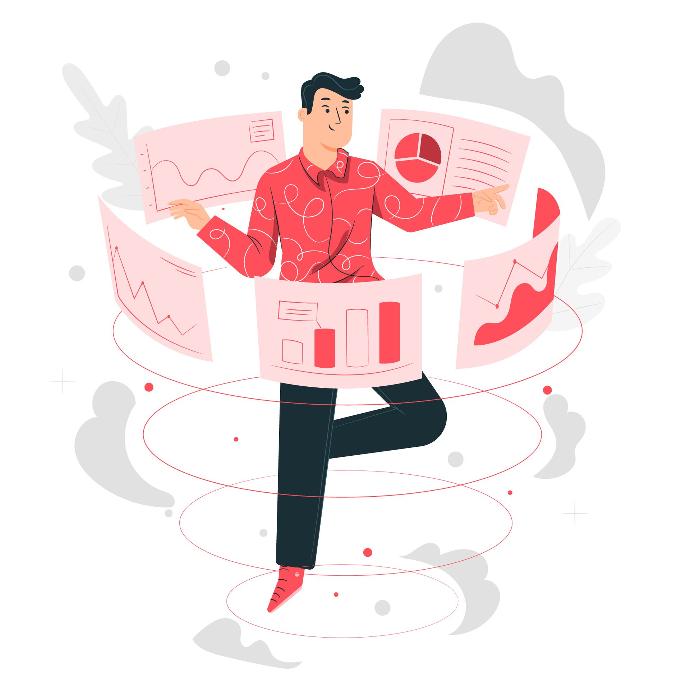 Business Benefits of a custom ERP system
Business process automation
ERP system helps to reduce the number of manual operations, streamline business processes, increase overall efficiency.

Better workflow control
The ERP system helps to monitor the status of each project better, plan future activities and analyze progress.
Storing all information in one database
The ERP system provides the ability to store all information in one place, providing up-to-date and unambiguous data to every employee in the company.

Improved customer service
Modern and efficient tools in one place help process new requests faster, providing a perfect customer experience.

Improved data storage security
The ERP system makes it possible to grant different access rights, avoid data leakage, and integrate multiple security access systems.
Customized and comprehensive analytical data
ERP provides customizable reports in different real-time sections, increasing the speed of important decisions.

Midis ERP system development services
ERP system development
We develop custom ERP systems according to business requirements.
We automate business processes by integrating data and developing modules, covering the required functionality.
We integrate third-party software solutions.
Configuration and customization
We integrate ready-made ERP solutions (Odoo ERP, Microsoft Dynamics).
We configure ready-made ERP solutions for business needs.
We perform the development of customization of the finished ERP systems to cover the special needs of the business.
ERP system upgrade
We are updating the ERP system versions to newer ones.
We are migrating data from an existing ERP system and a new platform.
ERP system support and maintenance
Qualified software assistance.
ERP system maintenance 24/7.
Professional development and improvement of existing functionality
Reduction of the company's operating expenses.
ERP system's development process
Stage 1
IT strategy and concept
Our collaboration begins with planning the company's IT strategy and offering a concept.
Stage 2
Analysis and prototyping
We analyze business processes and develop a prototype.
Stage 3
Software solution development
We develop the IT solution iteratively according to the customer's system requirements.
Stage 4
Delivery of a software solution to the production environment
We plan the delivery process in detail to be as efficient as possible.
Stage 5
Maintenance, consulting, improvement
We respond quickly to customer applications in the daily use of the IT solution.
Success factors in the ERP project development process
Process
Based on our experience, we have established effective internal processes that allow you to get a perfect experience in cooperation with us.
Experts
Our team consists of experienced and certified experts who use their knowledge daily to maximize software systems that solve business challenges today and in the future.
Business requirements
The customer must receive maximum value, so we design projects according to business requirements that cover the required functionality.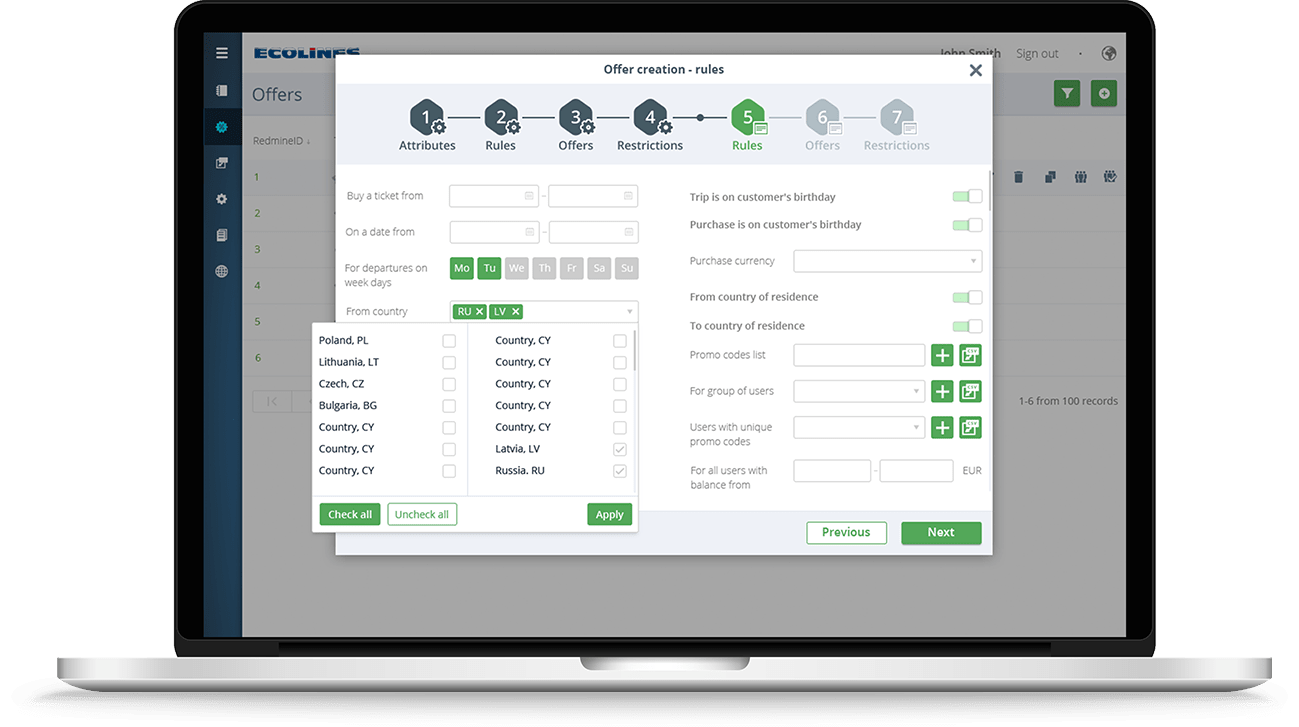 Business process automation


The Midis team will delve into the business and offer a solution based on experience and professional knowledge. We help businesses understand redundant and inefficient activities that are done manually daily and use IT technology to automate data exchange within the company.
Are you aware of which manual steps take too long? We will help identify them and achieve digital transformation by automating business processes. We offer modular solutions to control each process in a single and centralized system.
Human resource management
We develop human resource management solutions that automate administration activities: vacation planning, recruitment, payroll management, performance, etc.
Project
management
We develop project management solutions that optimize planning and control activities: project budget planning and performance tracking, a delegation of tasks, and performance reports.
Supply chain management
We develop delivery management solutions that optimize and automate delivery activities: fleet and transport status in real-time: transport location on the map, order loading/unloading status, delivery departments, bills of lading, etc.
Manufacturing management
We develop production management solutions that optimize and automate production activities: material and manufacturing planning, manufacturing stage execution status and quality, product life cycle management, etc.
Warehouse management
We develop warehouse management solutions that will help automate and optimize warehouse operations: product receipt and delivery, inventory using a mobile phone or tablet, QR / barcode scanning, etc.
Financial
management
We develop the company's financial management solutions to help automate and optimize operations: manage financial and banking activities, synchronize the bank account with the ERP system, financial planning, accounting ledgers management, etc.
The technologies we use to develop an ERP solution
Microsoft




Open-source






Mobile







Cloud solutions



Experience in industries
Midis team designs and implements Open Source and .Net software development solutions for a project of any complexity. We have extensive experience in many business sectors.
Manufacturing
Passenger & Cargo transportation
Finance
Real estate
Health care
Education
E-commerce
Inventory management
IT partnerships
Why do customers choose us?
We think cooperation with "Midis" was the right choice, and we achieved our goals. This is why we recommend the company Midis as a professional IT system developer with a responsive team. We highly appreciate the resources, quality, and attention we receive as customers in this comprehensive service.
We have created a close relationship with Midis. They have been taking on our challenges for five years, reaching and even exceeding our expectations every time. We believe that Midis is a company with the appropriate values and attitude towards work and the client. They hear our wishes and use the proper methods and technologies. We entrust our IT projects to Midis.
We highly appreciate cooperation with Midis and their .Net team. The software developers understand complicated systems and suggest innovative solutions, even in irregular situations. A great cooperation partner that we can trust.
BUSINESS INCUBATOR RESOURCE MANAGEMENT SYSTEM



Task

The incubator needs a system to manage resources and simplify document handling. An important factor would be to reduce the time spent on document handling that could be devoted to other tasks.

Solution

A resource management system that provides quality, efficiency, control and transparency of operational processes.



Result

Easy to use and secure resource management system. Time saving in document handling..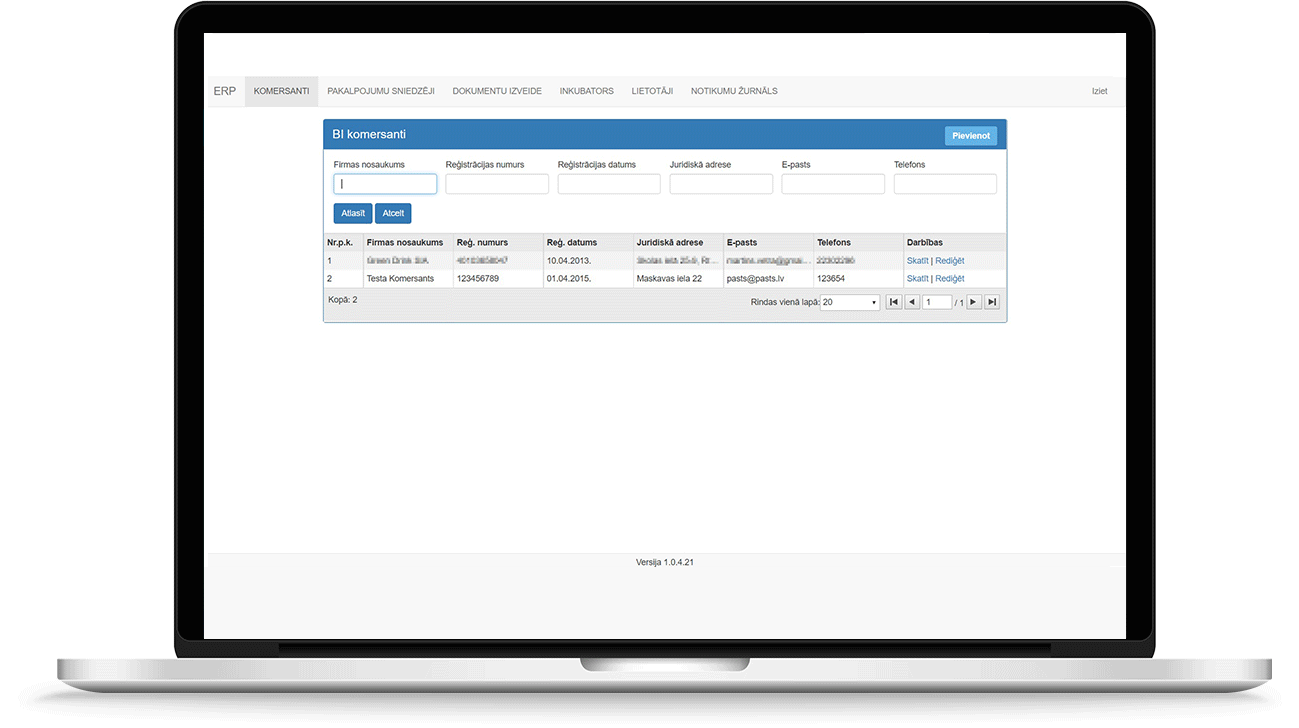 REAL ESTATE MANAGEMENT SYSTEM



Task

In the real estate management sphere, there is often a large amount of paper documents that are not convenient and quickly to go through.

Solution

Real Estate management system that improves business processes.



Result

Improvements in tenants loyalty. Transparent data. Less time consuming business processes.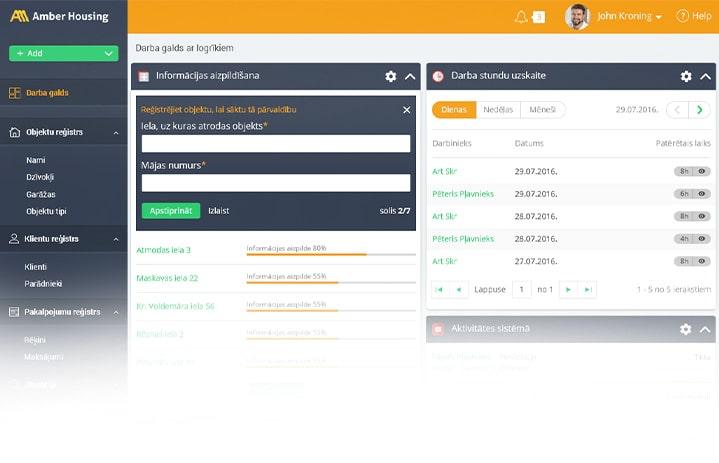 Rezekne namsaimnieks information system



Task

Working with more than 9,000 customers living in over 200 apartment buildings it is risky to rely on paper documentation. The scope of this documentation is very large and difficult to review and summarize.

Solution

Rezeknes Namsaimnieks Information System (RNIS), which compiles company documentation.



Result

A unified system for collecting and storing documentation. Time savings in working with documents. Interactive presentation of work to be done. Customer service platform.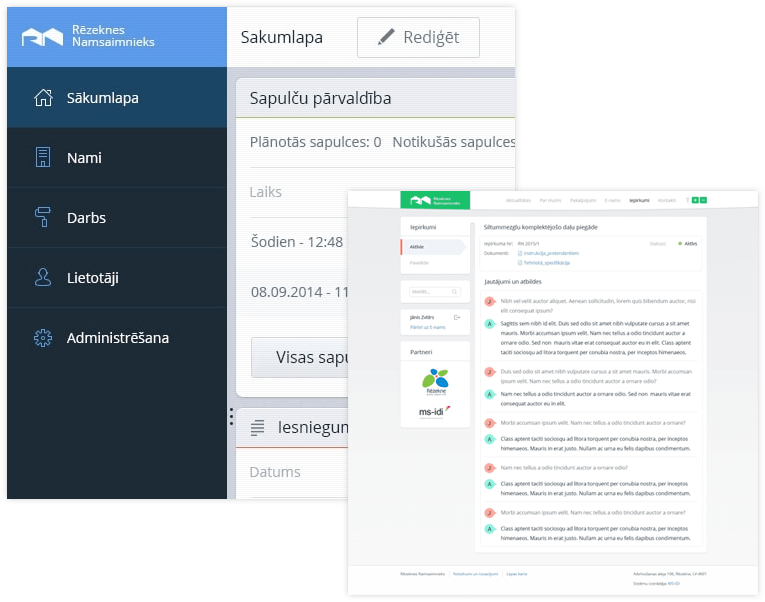 Tell us about your goals
We will be able to find the right solution for you!