When you're managing a large inventory, it can be challenging to keep track of everything. You might need to know the state of every item in your warehouse, but that takes up valuable time and space.

With the Odoo Inventory module, you can see everything on one screen—from your current stock levels to all the orders that have been placed for your products. You can even set alerts for when certain items reach a certain level, so you'll never miss out on an opportunity again.

Manages single warehouses or multiple sites and warehouses across your organization

With the Odoo Inventory module, you can manage single warehouses or multiple sites and warehouses across your organization and manage your inventory from one screen.

Odoo Inventory allows you to manage data from one screen. You can easily update this information with just one click. With a few clicks, you can add new items or update existing ones.

You can create a new product or modify an existing one by entering its details. When adding a new product, you can choose its category or subcategory.

For each product, you have access to the following information:
Listing of available products (items): A list of all products that are currently in stock;
Number of items in stock: The number of items that are currently available for shipping;
Price per unit: The current price per unit of each item;
Inventory status: The current status of each item in stock.

Combine the Inventory module with other Odoo modules like Sales, Manufacturing, and Accounting

Odoo Inventory is a module for managing your business inventory. It is integrated with the Odoo CRM, which means you can use it to manage your company's products and services.

The Inventory module uses the same data as the Sales and Manufacturing modules to provide you with a complete view of all your inventory items on one screen. You can also use its search feature to find any item in your database. This makes it easy to track down missing items or discover new ones.

If you're looking for a way to manage your inventory while also managing other areas of your business, this may be right for you.

Odoo Inventory also integrates with Sales and Manufacturing modules to create an integrated inventory system. It allows you to manage your inventory by adding products, selling them, managing the inventory, and tracking it all in one place.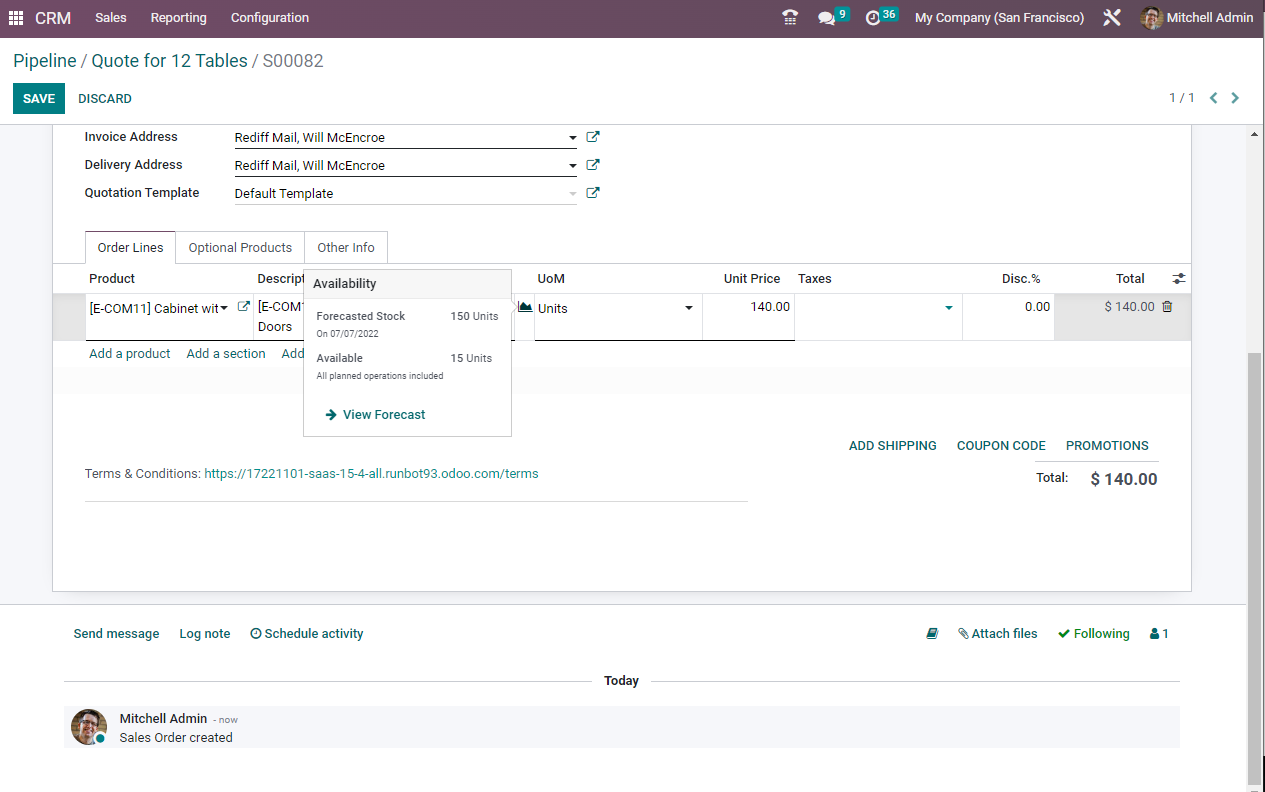 Inventory is an essential part of any business as it helps you keep track of your stock levels at all times. With Odoo Inventory, you can easily add products, track them and sell them if needed. You can also view the total stock available in your warehouse, on hand, or order.

Did we help you learn more about Odoo ERP?

Contact us to answer questions that concern you!